Peep Toe Clogs Spruzzato Seconds
These are seconds so will have cosmetic defects of some kind however they are all checked by Lotta and Jonny so you wont be getting anything that you wouldn't be happy to wear.
Our lovely High Heel Peep Toe Clogs are perfect if you are looking for something with a little more detail, the retro design at the toe gives us 70s vibes and look especially cute paired with socks for a pin-up style. These versatile clogs can be dressed up for nights out and events or paired with some denim jeans for everyday wear.
Lotta From Stockholm clogs are crafted with love and care in Sweden using vegetable tanned, chrome free natural undyed leather form Italy for the uppers and seasoned Swedish Alder from FSC managed forests for the base. A 7cm (2.75 inch) heel and 2cm (0.75 inch) platform provides enough height to allow the properly shaped footbed to be formed which includes a pronounced arch support.
This is a natural non dyed leather which has been subject to minimal processing so will have lots of marks and inconsistencies across its surface. It will also be quite hard at the beginning but the leather will soften with time and wear. The colour will darken with time and exposure to the sun to become a rich golden tan. This can be accelerated by applying olive oil or leather balsam and leaving in the sun. Please note that this will change the colour of your clogs and cant be undone ! The colour may also become inconsistent initially. If you don't wish to do this we do suggest that you apply a good quality leather protector spray
Lotta From Stockholm Swedish clogs - Simply the best clogs.
Delivery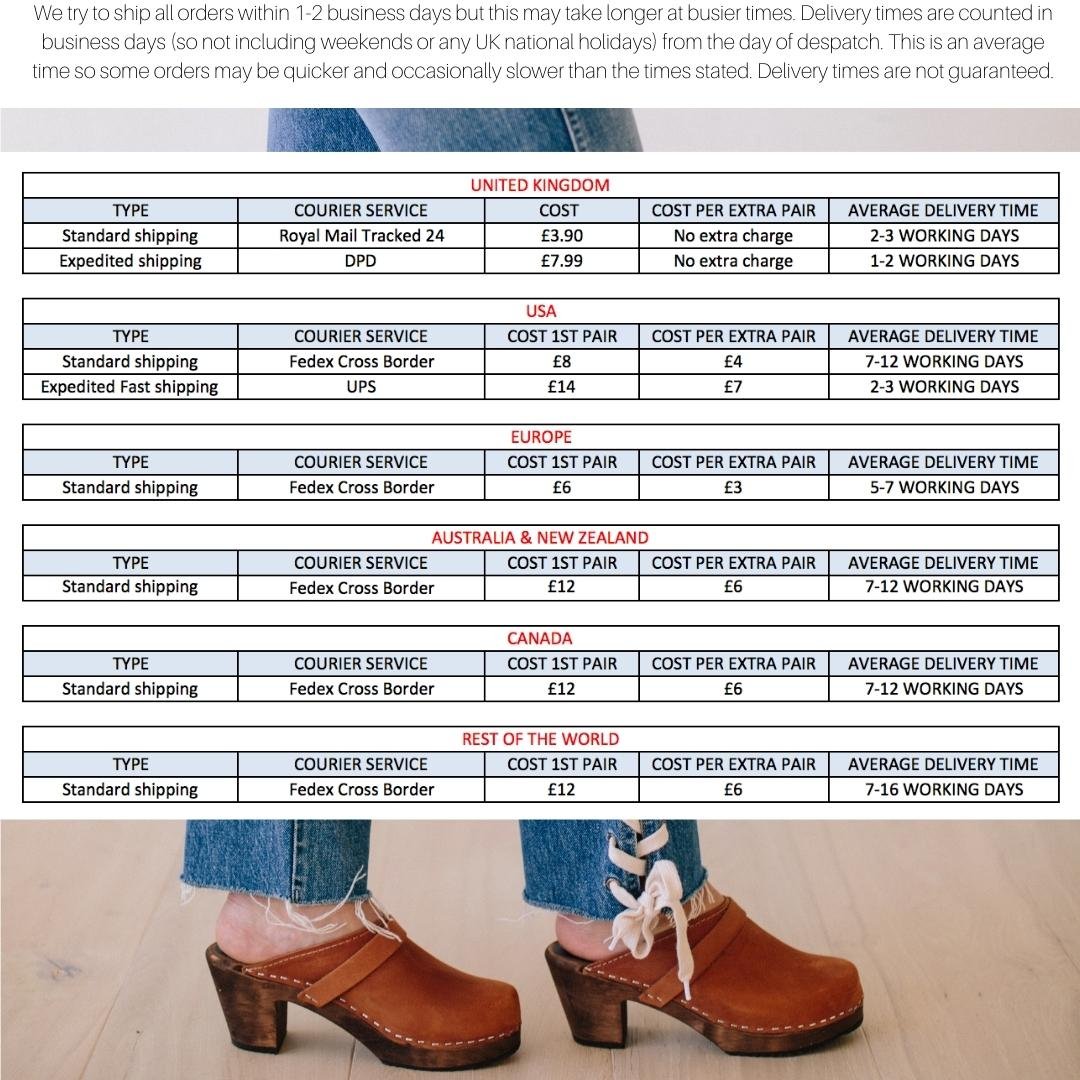 Size Info
Lotta clogs are made and supplied in EUR whole sizes and this style is true to size. If you know your EUR size then we do recommend that you order your regular size.
If you are unsure about what size to get we suggest that you measure your feet using our non-rocket science method: On a hard floor stand with your heel lightly touching a wall and have a book in your hand. Slide the long edge of the book against your longest toe and then hold the book and remove your foot. Measure the distance from the wall to the book. Add 0.5cm (0.2 inches) and look up your EUR size in the table below.
The sizes you see below are conversions from the EUR size and variations do occur in the conversions so don't be shy and have a quick measure if you are in any doubt.
This guide should only be used for the Highwood, Highwood Open, Highwood T-bar, Peep Toe, Braids, high heel clog and Cross over clogs (all high heel)
| EUROPE | UK | AUSTRALIA | USA | CM'S | INCHES |
| --- | --- | --- | --- | --- | --- |
| EUR 35 | UK 2.5 | AUS 4.5 | USA 5 | 22.3cm | 8.78 inches |
| EUR 36 | UK 3.5 | AUS 5.5 | USA 6 | 23cm | 9.02 inches |
| EUR 37 | UK 4 | AUS 6 | USA 6.5 | 23.7cm | 9.33 inches |
| EUR 38 | UK 5 | AUS 7 | USA 7.5 | 24.5cm | 9.65 inches |
| EUR 39 | UK 6 | AUS 8 | USA 8.5 | 25.3cm | 9.96 inches |
| EUR 40 | UK 7 | AUS 9 | USA 9 | 25.9cm | 10.2 inches |
| EUR 41 | UK 7.5 | AUS 9.5 | USA 9.5 | 26.6cm | 10.47 inches |
| EUR 42 | UK 8 | AUS 10 | USA 10.5 | 27.2cm | 10.69 inches |